Web Conferencing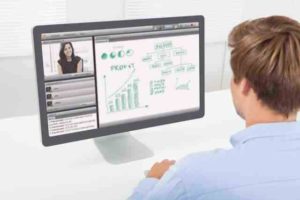 Media Motion Online Web Conferencing is an affordable web conferencing platform for online meetings that is powered by OnStream. Media Motion Online Web Conferencing is fast, easy, and fun! Based on the Flash® plugin, participants can easily join your online meetings with no installation or download. Media Motion Online Conferencing is an out-of-the-box video communication system. Using any standard webcam, you can be up and running in minutes with all of the features such as full-duplex video conferencing, screen and files sharing, chat, session recording, and much more.
There are many business advantages to using web conferencing. And communication for today's organization is not confined to just voice and video conferencing. You may also need to share files and documents. You can upload your files to the online meeting room to ensure everyone is on the same page at the same time. Media Motion Online Conferencing supports Microsoft Office documents, video files, and even multimedia files. You also can use Media Motion Online Conferencing's screen sharing feature and show your computer screen at the click of a button.
Media Motion Online Web Conferencing is dynamic and easy to learn – with no training costs or technology barriers. New systems are terrific – in theory. But the journey to learn and embrace them can be an uphill struggle. Media Motion Online Conferencing was designed with the user in mind. A typical conference organizer can learn the most important features on Media Motion Online Conferencing within a few minutes and over 80% of the entire system within an hour. The key features are prominently displayed, making your web conference an enjoyable and intuitive experience.
The Media Motion Online Conferencing platform is designed to work on any computer that can run Adobe Flash Player. That means it will run on desktops, tablets, and cell phones – including those running on Microsoft Windows®, Apple OS X®, various distributions of Linux® and Sun Solaris™.