Web Conferencing online meetings are easy!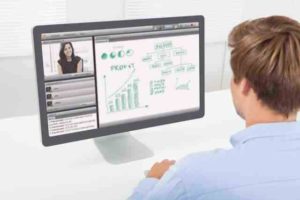 With Media Motion Online Web Conferencing, you can hold large or small online meetings with anyone anywhere in the world.
Your personal requirements for using web conferencing online meetings can vary widely, depending on business necessities, daily fluctuations in requirements, and even personal preferences. Using Media Motion Online Web Conferencing as your communication medium offers you easily accessible solutions to any communication challenge – whenever or wherever they arise.
Using Media Motion Online Web Conferencing is easy, fast, and fun. Based on the Adobe Flash plugin and with no installation or downloads, you can be up and running in minutes – giving you and your team immediate access to your own online meeting room 24/7.
You can interact with your attendees. Whether it's through our text chat, Q&A features, or live polls, you can keep your attendees engaged.