Web Conferencing provides Real Time Polling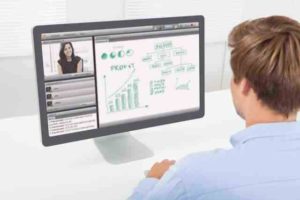 Interactivity with your meeting participants is important in web conferencing.
Media Motion Online Web Conferencing Real Time Polling allows the online meeting moderator to post questions to participants and then display the poll results in real time. The results are displayed in real time as a dynamic bar graph.  Real time polling is one of the easiest ways to interact with your attendees and keep them engaged.
It's fast, fun, and scalable.
Polls are a simple, effective way to improve engagement. They will provide valuable information and feedback about your participant's knowledge level, opinions on the topics of your meeting, to evaluate the effectiveness of your meeting, and any range of other data.
Audience Engagement and Interactivity Tools
Every live webcast event has a different need. To help ensure the success of your event, different tools and approaches should be taken to maximize its impact. We provide a wide variety of engagement and interactivity tools to customize and match to your specific requirements. Polling is an important element of our interactivity toolset.
Media Motion Online Web Conferencing interactivity tools include:
Pre-Event –
Registration and reminder emails
During the Event –
Synchronized slides with audio and/or video
Live polling from online audience
Live chat to build a dialogue between the speaker and online audience
Moderated Q&A module to receive questions from your live audience
Annotation tools to markup your presentations and documents
Post-Event –
Automated post event followup emails
Send separate emails to those that attended and those that registered  but did not attend
Post-event analytics track registration and attendance